Icom IC-910H ( Used for Satellite Operations )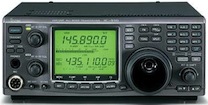 The IC-910H offers 0.11µV of high sensitivity (at 10db S/N on SSB, CW mode), while the image and spurious responses are minimized for good signal fidelity. Used with the optional preamplifiers for each band, indispensable for obtaining weak signals in DX or satellite communication, you will experience top class receiving characteristics in the VHF/UHF bands. By installing the optional UX-910 1200MHZ BAND UNIT, the IC-910H becomes an all mode tri-band transceiver. You can also enjoy cross band and full duplex operation. A powerful 100W of output power is provided by the newly designed power amplifier circuit, which employs bipolar transistors in parallel.
Elecraft K2 (Used for HF operations ….mainly for CW)
QST Magazine:  "The K2's receiver performance compares very favorably to that of the samples of the high-end radios we've recently examined… The fact that a radio in this price class—and a home-built one at that—can stand proudly in such company is a remarkable accomplishment."  March 2000 QST K2 Product Review
The K2 is a full-featured HF transceiver with the options you have come to expect from radios costing over twice as much. Two VFOs with multiple memories, split TX/RX operation, RIT/XIT, full break-in CW, memory keyer, narrow IF crystal filtering, excellent RX dynamic range and IF derived AGC are standard on the K2.
Performance: We've designed big rig features and performance into the K2. Eric and Wayne are experienced CW operators, so solid CW performance (in addition to SSB) is a priority with the K2. Excellent sensitivity and dynamic range, Full QSK Break-in (diode switched), adjustable RX/TX CW pitch, High Speed Memory Keyer, Selectable RX Sideband, and Sharp IF Crystal Filtering are standard. Check out the K2 Performance Number Comparisons with other radios for more details.
Low Power Consumption: The K2 is designed for use both at home and in the field. The K2's low receive current (approx. 150 mA in battery save mode) makes portable operation possible from small gel cell batteries. The K2 even includes an option for an internal 2.9-Ah rechargeable battery.
Build the K2 for QRP or 100W Operation: The K2 offers efficient QRP CW operation with up to 15 watts output. Build it as a K2/100 by including the internal KPA100 option to get a full featured 100W radio. The KPA100 kit of internal parts, including its micro-controller and heatsink fit totally inside the K2. The KPA100 includes an internal speaker and a RS-232 Aux I/O computer control rig  interface (equivalent to the KIO2), SWR / Power metering and microprocessor controlled silent PIN diode switched T/R.
We also offer SSB, 160 M, a High Performance Noise Blanker, RS-232 computer control, Auto-Tuner (ATU), Internal Battery, DSP and Audio Filter options.
Yaesu FT-897D (used for Local Operations )
The FT-897D is a rugged, innovative, multiband, multimode portable transceiver for the amateur radio MF/HF/VHF/UHF bands. Providing coverage of the 160-10 meter bands plus the 6 m, 2 m, and 70 cm bands, the FT-897 includes operation on the SSB, CW, AM, FM, and Digital modes, and it's capable of 20-Watt portable operation using internal batteries, or up to 100 Watts when using an external 13.8-volt DC power source.
The FT-897's outstanding fundamental performance invites expansion into a full-featured base station. The optional FP-30 Internal Power Supply provides operation from AC sources, and the clamp-on FC-30 Automatic Antenna Tuner option expands the impedance range of the transceiver. Round out your station with the MD-200A8X Deluxe Desk Microphone and the VL-1000 Quadra System Linear Amplifier for world-class performance at home!
The power source tray of the FT-897 is designed to accommodate the optional FP-30 Internal Power Supply, allowing full-power operation from 100-120 V or 200-240 V AC power sources. The quiet switching-regulator design of the FP-30 is tolerant of AC input voltage variations, making it ideal for DX-pedition use! And to extend the impedance bandwidth of your antenna system, the innovative FC-30 Automatic Antenna Tuner option clamps onto the left side of the FT-897 in seconds!Achieving 100 Watts of power output from such a compact package is a difficult mechanical and electrical engineering task.
On HF, push-pull 2SC5125 Bipolar transistors driven by push-pull 2SK2975s provide the 100-Watt power capability, while on VHF maximum efficiency during battery operation is yielded by 2SC3102 bipolar PA transistors. The rugged aluminum die-cast chassis provides a solid foundation for the heat sink for the power amplifier, with a total of almost 40 cubic inches of heat sink surface area available. With its thermostatically-controlled twin cooling fans, the FT-897 will stand up to the rigors of DX-pedition or home contest use, with dissipation capability to spare!
The FT-897 includes a wide array of analog and DSP filters to help you dig out those weak DX signals on a crowded band! One-touch activation of the DSP filters, plus a convenient "DSP" LED on the front panel, enhance the ease of using the DSP. DSP Bandpass Filters, Noise Reduction,a nd Auto-Notch Filter circuits are included.
A wide array of features are tailored to the CW enthusiast operating from home or on an expedition!
Included are a CW Tuning indicator, CW Pitch control, Electronic Keyer with three memories and Weight Control, and selection of Full QSK or "Semi-break-in" operation.
For DX-pedition use, a unique "Beacon" mode allows you to send a repetitive message on, for example, six meters, to help others spot propagation to your location.
And if you're looking to upgrade your license class, the CW Trainer feature will send five-character letters and/or numbers via the speaker, so you can practice CW reception when the bands are dead!